Looking for a cool local motorcycle event near you? Here are the top 5 ways to find a good motorcycle event this weekend for you and your riding buddies.
Looking for a cool motorcycle event this weekend but need some help finding something going on near you? Every weekend, especially when the weather is warm, there are hundreds of motorcycle events going on ranging from local bike nights to big multi-day motorcycle rallies. All you have to do is spend a few minutes on your phone or computer.
Read on and we will go over the top 5 ways to find local motorcycle events.
1. Social Media
Social media is the first place to check for local moto happenings. The two best places to check are Facebook and Reddit. On these two social networks, in particular, you can find all of the many types of motorcycle events listed. This includes flat-track racing, bike blessings, poker runs, stunt shows, motorcycle swap meets, vintage bike shows, and everything else.
On Facebook, all you have to do is search for 'motorcycle events' then filter on 'events' and 'this weekend' and you should get a good list of events like what is shown below.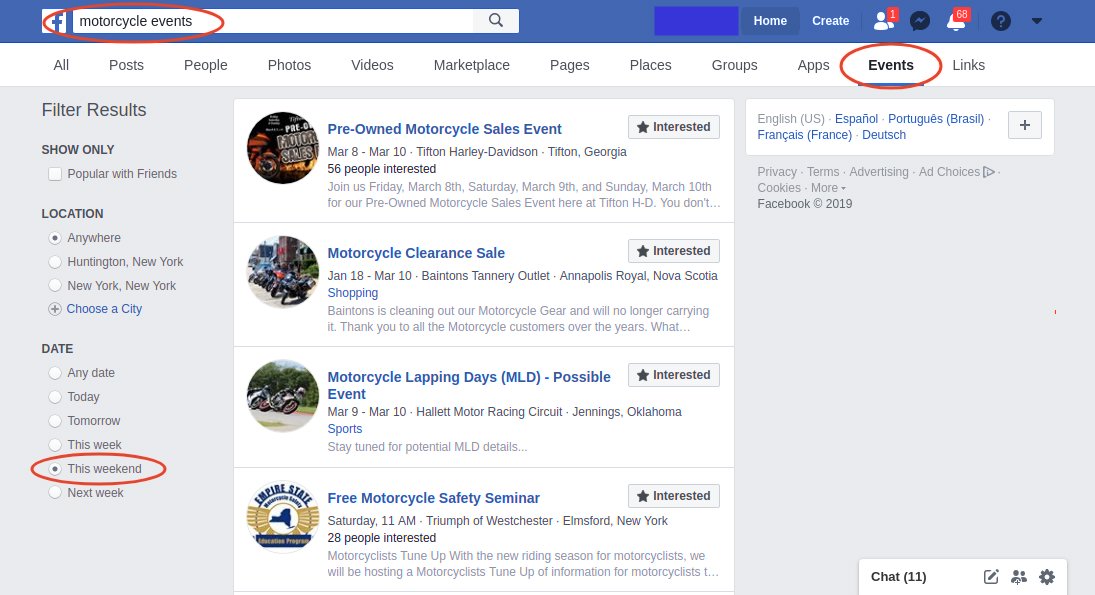 Searching Facebook for upcoming motorcycle events.
On Reddit, you can check your local moto-community subreddit like /r/RideitNYC (New York City) or r/Phillyriders/ (Philadelphia), r/BayRiders/ (San Francisco), or r/ChicagoMotorcycles/ (Chicago). There you can see if there are any new posts mentioning upcoming nearby events.
2. Dealerships
The next place to check the event calendars of your local motorcycle dealership. Dealers organize events all the time ranging from regular Saturday morning bagels and coffee meets to multi-day brand test rides. At these events, you will meet other local riders and get to see the latest new motorcycles on display.
3. Manufacturer Event Calendars
This one gets overlooked but every motorcycle brand has a event calendar where they organize brand-centric events and announce their presence at motorcycle shows all over the country. So, head over to your favorite motorcycle brand website, looks for their events calendar page and search for events near you. For example, check out
Harley-Davidson's Event Calendar
.
4. Local Motorcycle Clubs
If you are looking for a friendly group ride, check out what a few of the local clubs are doing this weekend. They will typically post club events on their websites, on their RiderClubs.com profile or on their Facebook or Meetup.com pages. The local club events are usually interesting because they are handpicked by local club organizers who really know the area and they want to provide interesting activities to their club members. And, not to mention, attending a motorcycle club event is a great way
to find regular riding buddies
.
5. Online Moto Resources
In addition to the resources we've already mentioned, there are many other online resources built with the purpose of helping riders like yourself find upcoming and interesting moto events.
These websites will often times list events by both location and event categories. A few examples:
Find Your Event
No matter where or how you ride, there's a perfect event out there just waiting to be discovered. All you have to do is to spend a few minutes on the web to find an event that worth checking out.
And if you still can't find something interesting, drop us a line and we would be happy to help you out.