Looking for a cool motorcycle event this weekend but need some help finding something going on near you? Every weekend, especially when the weather is warm, there are hundreds of motorcycle events going on ranging from local bike nights to big multi-day motorcycle rallies. All you have to do is spend a few minutes on your phone or computer.
Read on and we will go over the top 5 ways to find local motorcycle events.
1. Social Media
Social media is the first place to check for local moto happenings. The two best places to check are Facebook and Reddit. On these two social networks, in particular, you can find all of the many types of motorcycle events listed. This includes flat-track racing, bike blessings, poker runs, stunt shows, motorcycle swap meets, vintage bike shows, and everything else.
On Facebook, all you have to do is search for 'motorcycle events' then filter on 'events' and 'this weekend' and you should get a good list of events like what is shown below.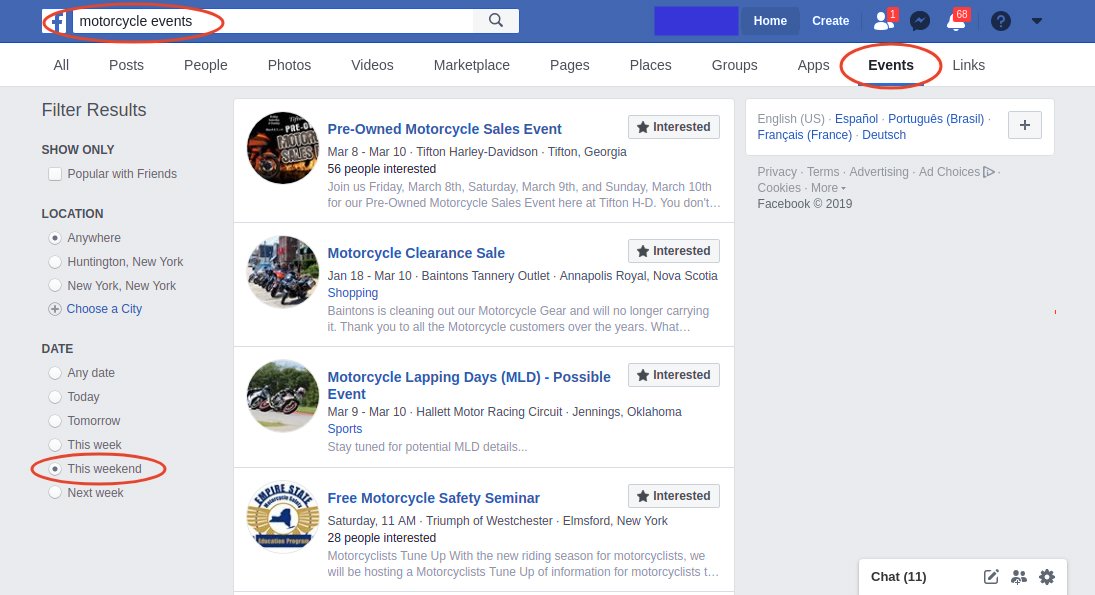 On Reddit, you can check your local moto-community subreddit like /r/RideitNYC (New York City) or r/Phillyriders/ (Philadelphia), r/BayRiders/ (San Francisco), or r/ChicagoMotorcycles/ (Chicago). There you can see if there are any new posts mentioning upcoming nearby events.
2. Dealerships
The next place to check the event calendars of your local motorcycle dealership. Dealers organize events all the time ranging from regular Saturday morning bagels and coffee meets to multi-day brand test rides. At these events, you will meet other local riders and get to see the latest new motorcycles on display.
3. Manufacturer Event Calendars
This one gets overlooked but every motorcycle brand has a event calendar where they organize brand-centric events and announce their presence at motorcycle shows all over the country. So, head over to your favorite motorcycle brand website, looks for their events calendar page and search for events near you. For example, check out Harley-Davidson's Event Calendar.